When we FICEBO researchers returned back to work after a long and relaxing summer, our new national hero, Mr. Teemu Pukki, was at the top of the Premier League scoring with 4 goals. We thought that it would be fun to "compete" with Teemu in "scoring": his goals in Premier League vs. our published papers over the 2020-21 Premier League season.
Although we had our pipeline full of "about ready to be submitted" manuscripts, we were openly hoping to be defeated…
Since August 26, we have managed to publish five (5) papers while Teemu's record currently stands at 11. We do have a few papers out (under review; even some big "fish" about to be published), but it seems likely that we will lose this battle!
If there is anything positive about the devastating COVID-19, it would have to be the extra time it has provided us with, to work on our papers… Mind you, we are all really hoping that this crisis comes to an end as soon as possible – we really miss watching Teemu Pukki excel in the Premier League. And obviously, all the more important things that the COVID-19 prevents us from doing!
Our latest publication is the statistical analysis plan (SAP) of the FIDELITY trial, a study designed to test the efficacy of arthroscopic partial meniscectomy. This FICEBO's "crown jewel" trial began in December 2007. The trial protocol was published in 2013, just before the publication of the 1-year follow-up results. Since then, we have published a paper on the effect of meniscal resection on mechanical symptoms and the 2-year results.
In preparation for the 5-year manuscript, the FIDELITY team gathered to finalize the statistical analysis plan (SAP) for the trial in Lund (Sweden) in June 26-27, 2019. As a part of this exercise, we carried out the blinded data interpretation of the 5-year data.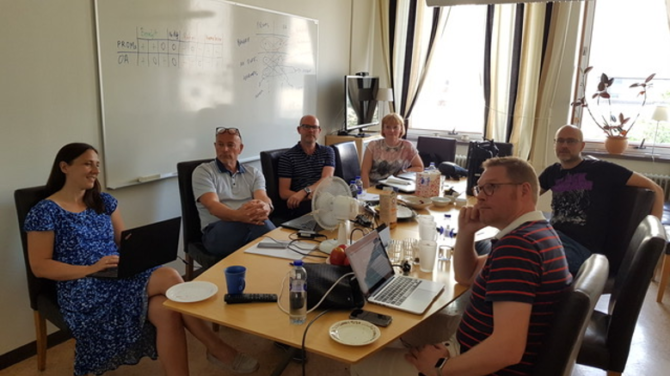 As always, the publication of the SAP paper took another seven months but came out earlier this year (in January)!
This process outlined above highlights the hurdles a researcher faces in the execution of clinical trials according to current standards: Protocol, SAP, 1-yr results, 2-yr results…
But we are very eagerly waiting for the moment to be able to announce the publication of the 5-year results – it may not be that long for that day to arrive!
Stay healthy, stay safe and stay positive!