FICEBO proudly announces another milestone: publication of the trial's five-year results in the leading journal in the field of sports medicine, the British Journal of Sports Medicine!
The FIMPACT study group (a.k.a., the FIMPACT investigators) was formed in 2005 when Mika Paavola decided that it was finally time to place arthroscopic subacromial decompression – the most common shoulder surgical procedure – under the magnifying lens of robust scientific scrutiny. Mika was able to convince a group of curious and somewhat 'fearless' musculoskeletal researchers from Helsinki and Tampere to jump off the cliff and test our parachutes with the first ever placebo-controlled surgery trial conducted in Finland. A pretty impressive feat on its' own right made more inspiring by the fact Mika was an orthopaedic resident when he launched the trial!
Yes, this long and winding road was more thoroughly summarised in our previous post announcing the publication of the 2-year results, but we are still here, enthusiastic about providing our peers with the best possible scientific evidence on this matter. It seems that our long-term commitment to solid scientific work has rubbed off somewhat on the FIMPACT trial participants themselves as almost 90% of those initially randomised (170/193) took part in the 5-year follow-up!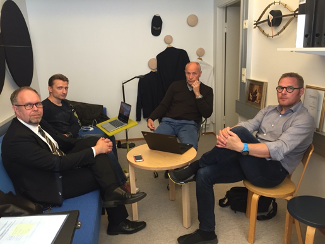 In case you are wondering… No, we are not done yet! The FIMPACT project still continues and we are looking forward to providing the long-term (10-year) efficacy outcomes a few years from now.. And in the meantime, we hope to celebrate some completed PhD theses of several of our hard-working PhD students who worked with us on the project to make it all possible.  Stay tuned, as the FIMPACT saga continues…