After almost two years of 'COVID hibernation', it was finally time to hop back on the saddle – the blue wings of our national carrier, the Finnair – and head over to the legendary AAOS meeting. Our destination was Chicago, the windy city once ruled by the legendary Al Capone… Obviously, Chicago has undergone a complete transformation over the past Century and is now world-renown as a vivid financial and transportation hub with rich academic and cultural ambiance. Although we do have some cultural talent (Lasse, without mentioning any names), FICEBO is more packed with sports fanatics. And oh boy, is Chicago the candy store of sports, with two Major League baseball teams, the MJ's – and formerly Lauri's – Bulls, and the NHL Blackhawks… Don't get us wrong but we are thrilled to have a chance to pay a visit the congress but eager to also enjoy some US professional sports… only to learn that none of the Chicago teams had an outing during our stay. A bummer.
But we are determined not to let this 'minor' setback ruin our spirits: In the end, we were deemed to witness the international debut of Henrik Mattila, as his poster on humeral shaft fracture epidemiology (part of the FISH project) passed the rigorous AAOS peer-review. The FICEBO team (Thomas Ibounig, Lasse Rämö, Teppo Järvinen and Henrik Mattila) gathered at the Helsinki Airport on March 21. After the usual hassle at the border control – and some more hassle at the hotel check-in when Teppo's reservation turned out to be missing: All's Well That Ends Well. We finally crashed into our beds after some +24 hours of traveling, staring at the mesmerizing Chicago skyline.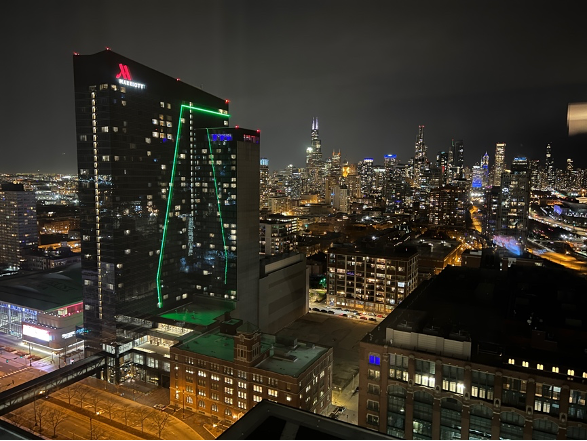 The Meeting started on Tuesday and even though not being the first time at the AAOS, the sheer size of the venue blew us away. After attending a couple of interesting instructional course lectures, we hooked up with our friends and collaborators from Sweden (Prof Jörg Schilcher and his PhD student Abraham Nilsson). While the team 'babies' (a.k.a. Henrik and Abraham) bravely presented their posters, the rest of our 'pack provided robust psychological support from the cafeteria nearby.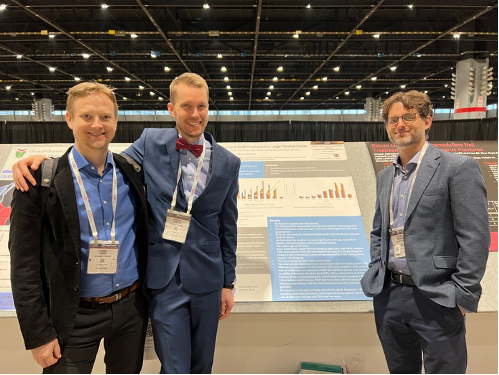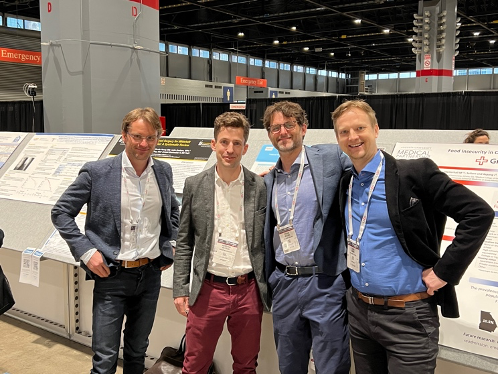 Once again, we noticed that many of the sessions were focusing on 'How to do surgery' rather than 'When to do or when not to do surgery' and we felt that there still is some work left to do for the FICEBO to provide high-quality evidence for the global orthopedic community.
As always, we must confess that the most interesting and stimulating sessions took place outside the official program when we had one-on-one meetings with some new and old friends (not only renowned researchers but most of all, good human beings). Seth Leopold, Adam Cifu, and Andrew Schmidt, to name a few of them.
After the lectures, we Finns and Swedes gathered at the Gene & Georgetti for a nice dinner. The place was full of traditional Chicago with its Italian roots. The steaks were out of this world and European wines completed the evening. It was a nice way to celebrate Lasse's big news (12th baby on the way). Thomas got some cake and as a gentleman, he offered to share some with his friends.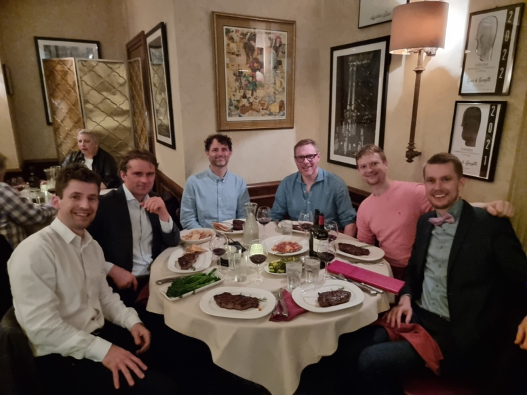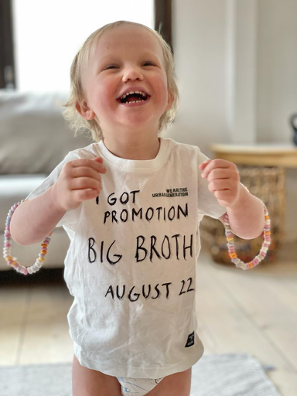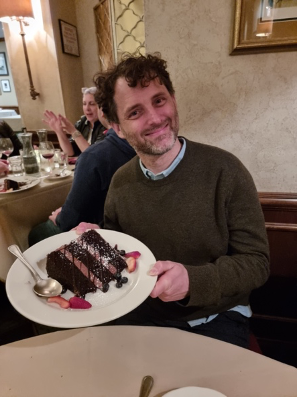 Long days at the conference demanded some high intensity training at the hotel gym to reconnect the brain and the motor function and to complete the needs of a Finnish/Austrian man: Thomas was able to locate a decent sauna – even though we had to pour water from drinking bottles to have even some 'löyly'.
Friday was officially the last day of the Meeting. Time to say goodbye Lasse, Thomas and Teppo. Henrik stuck for Saturday 26th, as it was the Specialty Day. After inspiring sessions, mainly on shoulder arthroplasty, Abraham, Jörg, and Henrik visited Chicago Firehouse with Norwegian collegues. The atmosphere was laid-back as we discussed about the Meeting while eating oysters and having drinks supporting the Ukraine war effort. Norwegians are starting a novel RCT research on hamstring injuries. There was also talk about their upcoming RCT study on Weber C ankle fractures.
Looking back to our week in Chicago, it is readily apparent that there are a lot of good conversations requiring completion. AAOS 2023 and Las Vegas? We are not too keen on gambling but if we were to make a bet… highly likely you will find some of us in Las Vegas. 😇🤷🏼‍♂️🙃